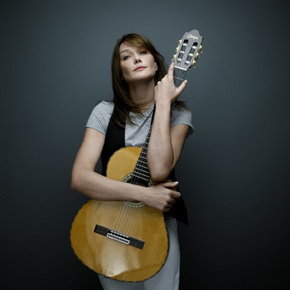 Carla Bruni
makes me want to learn French and not just the silly French that I do know like,
"Je me pelle Angela. Je suis un ananas. Donne-moi tout vous croissant. Uhauhauha!"
Which translates into
"My name is Angela. I am a pineapple. Give me all your corissants."
As for the laughter at the end, just imagine Pepe Le Pew laughing and that's usually what I do to signify that I'm speaking French. Shameful? Maybe. Funny? It is to me.
On a serious note, she makes me want to jump start the ongoing list in my head full of life's to-do's. Carla is not only a musician, but a former model and the First Lady of France. Jelaous?